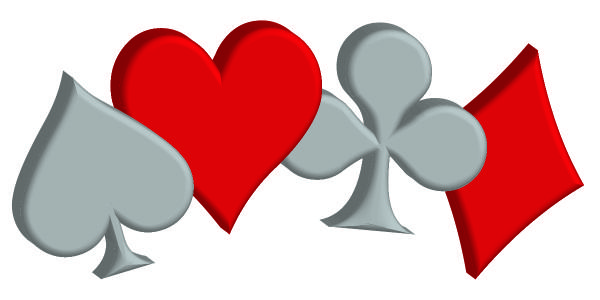 Rust Belt Bridge Group
Virtual Bridge Club on Bridge Base Online (BBO) for Cleveland, Youngstown, Pittsburgh and Buffalo bridge players.
Regular Daily Schedule
effective 11/1/2021
Please register and be online at least 5 minutes prior to game start time. Pairs play 18 boards, Swiss Teams play 24 boards. Cost per person for regular games is $4 BBO.
Listed Under Rust Belt Director - VACB165159
Monday through Friday
499ers at 9:45 am -

7 Minutes per board

OPEN Pairs 9:50 -

6 Minutes per board
Listed Under Rust Belt Director ID VACB115055
SATURDAYS

OPEN Pairs 9:50

MONDAY SWISS 7pm - Rust Belt / HOT WINGS GNT 200% Red/Black starting in November
Contact Dian Petrov for these games
(
dpetrov@roadrunner.com DIR ID VACB115055)
ANSWERS TO COMMON QUESTIONS
How do you find the games on BBO? Go to Virtual Clubs - North America or All Clubs and search for Rust Belt or VACBC165159
I have a friend who wants to play in our game? To add a guest, send a BBO Chat message to VACB165159 or an email to mentordbc@outlook.com
Need a partner? - NO PROBLEM - Put your name on the Partnership Desk for the game you want to play and we will do our very best to get you a partner.
What is the Stratification? All games are stratified based on the players who participate with 1/3 assigned to each strats.
How are Virtual Clubs games different from other games on BBO? Masterpoints earned at Virtual Club games are 100% Club rated Black points while those earned at other ACBL and BBO games are unpigmented. VC masterpoints awarded at 1.5 times the in-person club masterpoint rates. During "Special Events" at least once a month, additional masterpoints and/or colored points are awarded for play in the Virtual Clubs.

CONTACT INFORMATION

PLEASE NOTE - NEW EMAIL ADDRESS - rustbeltbg@outlook.com
BBO Director ID - VACB165159 - Send a chat message in BBO for assistance before each game

Angie Strainic, 440-255-6566 - rustbeltbg@outlook.com, DIR ID VACB165159

Elizabeth Goldthwait, 330-301-4863 - elizabethgoldthwait@yahoo.com DIR ID VACB102145

Gary Sikon, 216-973-3541 - gsikon@msn.com DIR ID DIRGARYS

Dian Petrov, 716-688-1226 - dpetrov@roadrunner.com DIR ID VACB115055